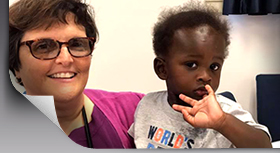 Socially Responsible Stewardship
The Sisters of the Presentation steward human and fiscal resources in service to the common good. This stewardship drives our mission and ministry. We invest funds to build a more sustainable world while reflecting the teachings of the Catholic Church and to ensure the future of the Presentation mission. In the spirit of Nano and in a spirit of collaboration, we support a variety of projects and organizations.
Catholic Responsible Investing (CRI)
Catholic Responsible Investing (CRI) is an investment strategy designed specifically to help Catholic institutions pursue their missions by providing sound financial returns while remaining faithful to the ethical and social teachings of the Catholic Church.
Sisters of the Presentation believe in the importance of mission. We work to inspire people to create a world that protects and promotes the God-given dignity and worth of every person. The services we provide, including pastoral guidance, education, healthcare, and charitable services rely in part on our financial resources. Ensuring those resources are invested wisely is a critical component to pursuing our mission and achieving our goals. Catholic Responsible Investing extends a faith-based mission to encompass the management of an investment portfolio — allowing the two to work in harmony.
Ministry Fund
The Ministry Fund of the Sisters of the Presentation of Dubuque, Iowa, exists to continue our mission of serving the poor and oppressed, especially women and children. Sisters and associates may apply for funding of projects and causes aligned with the Presentation mission. This fund is also used to support a sister who, in her wisdom years, wishes to continue serving our mission through active ministry that provides little or no income.
Partners for the Common Good
The Sisters of the Presentation partner with other mission-focused lenders and investors to provide access to capital for low-income people and communities. As a socially responsible investor and with the assistance of Partners for the Common Good, we channel funds into organizations working to serve communities excluded from the economic mainstream. Partners for the Common Good lends money to non-profit organizations and for-profit, mission-driven organizations that promote affordable housing, neighborhood revitalization, entrepreneurship and healthy communities in the United States and abroad.
Mercy Housing
Presentation sisters invest with Mercy Housing, a national non-profit organization working to build a more humane world through the alleviation of poverty and the building of healthy communities and individuals. It partners with a community and makes a long-term commitment, resulting in positive, measurable outcomes for residents and neighborhoods. It also serves as a catalyst, bringing together resources and talent in ways that are changing the face of affordable housing.