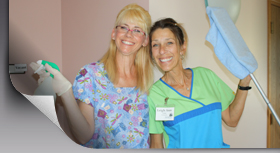 Employment
The Sisters of the Presentation is an equal opportunity employer with more than 60 staff members serving in various capacities including nursing, maintenance, professional administration, food service, housekeeping and much more. The Sisters of the Presentation offer a positive, inspirited, growth-oriented work environment reflected in their spirit of hospitality. Our employees experience a nurturing work environment committed to the values of service and hospitality. We offer full-time and part-time positions throughout the year.
Director of Nursing
Position(s) Available: (1) Full-time
Informed by the culture and mission of the Sisters of the Presentation, the director of nursing is responsible for the 24-hour operation of Nagle Center, which provides assisted and skilled care services to our sisters. The director is responsible for the organization, development and creation and cultivation of quality holistic, person-centered health care services. The director of nursing will: plan, direct and evaluate all nursing care, treatment and other services in accordance with physicians' orders and current accepted standards; arrange contracted services such as Hospice, podiatry and physical therapy. This position is responsible for planning, organizing and evaluating programs, services and appropriate alternatives to current practices; developing, maintaining and administering nursing policies and procedures; making routine rounds to observe and interact with staff and sisters.
Requires excellent interpersonal skills and ability to be relational. Interact professionally and effectively with team members with ability to coach, mentor and counsel staff. Fosters and promotes effective relationships and serves as a resource. Knowledgeable with staff scheduling, staff recruitment and retention, and supply management. Must be able to work irregular hours including occasional nights & weekends.
Current RN state license required; BSN preferred. The qualified candidate must have five to seven years' experience as a registered nurse, preferably in long-term care with proven leadership and management skills. General working knowledge of computers. This exciting ministry opportunity offers competitive pay and benefits package.
Applicants are encouraged to complete the on-line application or a PRINTABLE APPLICATION FORM and mail it to: Sisters of the Presentation, 2360 Carter Road, Dubuque, Iowa 52001. In addition, you are requested to submit a cover letter and resume to humanresources@dubuquepresentations.org.
Nurse (LPN or RN)
Position(s) Available: (1) Part-time (2-10 p.m.; 5 days/bi-weekly); (1) Part-time (10 p.m.-6 a.m.; 5 days/bi-weekly)
As a nurse you will provide clinical and/or leadership skills in the assessment, planning, implementation and evaluation of the nursing care delivered to each sister in Nagle Center infirmary. This position is also responsible for the supervision of nursing assistants, other staff and services, as appropriate, within the nursing unit and Mount Loretto motherhouse. Participates in providing health maintenance and management of illness in the motherhouse. Maintains the comfort, privacy and dignity of sisters in the delivery of services. Minimum one year experience in long-term health care facility, preferred, and current State of Iowa nursing license, in good standing. Must have ability to work both collaboratively and independently.
Applicants are encouraged to complete the on-line application or a PRINTABLE APPLICATION FORM and mail it to:
Sisters of the Presentation
2360 Carter Road
Dubuque, Iowa 52001
EOE
Application Form
To apply, please fill out the following application form.