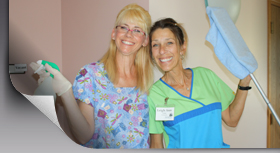 Employment
The Sisters of the Presentation is an equal opportunity employer with more than 60 staff members serving in various capacities including nursing, maintenance, professional administration, food service, housekeeping and much more. The Sisters of the Presentation offer a positive, inspirited, growth-oriented work environment reflected in their spirit of hospitality. We offer full-time and part-time positions throughout the year.
Nurse (RN or LPN)
Position(s) available: 3rd Shift Part-time
As a Nurse (RN or LPN) you will provide clinical and/or leadership skills in the assessment, planning, implementation and evaluation of the nursing care delivered to each sister in Nagle Center. This position is also responsible for the supervision of nursing assistants, other staff and services, as appropriate, within the nursing unit and Mount Loretto. Participates in providing health maintenance and management of illness in the health services facility and Mount Loretto. Minimum one year experience in long-term health care facility, preferred, and current State of Iowa nursing license, in good standing.
Certified Nursing Assistant (CNA)
Position available: (1) Part-time
As a Certified Nursing Assistant (CNA), under the direction of licensed nursing personnel, you will provide direct care nursing activities. In order to assist sisters with daily living, health and wellness, this position requires a positive, caring, relational disposition; an interest in the wellbeing of others; the ability to organize work, establish priorities and manage time effectively. You will provide maintenance and restorative care services in an appropriate, competent, compassionate manner to assist and empower sisters. Must have and maintain Certified Nursing Assistant certification. High school diploma or GED required.
Applicants are encouraged to complete the on-line application or a PRINTABLE APPLICATION FORM and mail it to:
Sisters of the Presentation
2360 Carter Road
Dubuque, Iowa 52001
EOE
Application Form
To apply, please fill out the following application form.