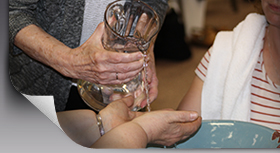 Conference & Preached Retreats
SEASONS OF THE SPIRIT: GOD'S TRANSFORMING LOVE LEADING AND SUSTAINING US
Sunday evening, March 8, 2020 to Friday afternoon, March 13, 2020
Director: Sister Janet Franklin, CSJ
Mount Loretto Convent, 2360 Carter Road, Dubuque, IA 52001-2997
Phone: (319) 213-3362
E-mail: akestel@dbqpbvms.org Web: www.dbqpbvms.org
In this Lenten retreat, we will explore together our own Sacred Stories, as the Seasons of Earth and our own Spirits are imbued with grace and love. As we see ourselves aging and changing in ordinary ways, we seek balance and the rhythm of the Spirit to lead us gently and lovingly. Through themes of grace in Scripture, poetry, images, mantras and music, we will find wisdom and love at the heart of it all, transforming our individual journeys. Our contemplative prayer together and in solitude may become simpler and deeper, as we relinquish all that separates us from God's Spirit and one another. We will share two conference per day, Eucharist, and an individual. optional session with Sister Janet Franklin, as requested.

DIVINE INTERRUPTIONS
Sunday, July 19, 2020, 5:30 PM to Friday, July 24, 2020, 9:00 AM
Director: Sister Nancy Schreck, OSF
Shalom Spirituality Center, 1001 Davis Street, Dubuque, IA 52001
Phone: (563) 582-3592
E-mail: info@shalomretreats.org Web: www.shalomretreats.org
Offering: Overnight $475 includes 5 breakfasts, 4 lunches, 5 dinners
Commuter: $420 includes 4 lunches, 5 dinners
$25 early bird discount if registered by Friday, June 19
$75 nonrefundable deposit required
Registration deadline: Friday, July 10
There are times in our lives, be it in contemplative sitting, immersed in radical social action or somewhere in-between when we meet an Energy that interrupts, disrupts and surprises us. This retreat will use scripture and women mystics from a variety of traditions to explore these experiences and to notice te "in breaking" of the Divine which is beyond our safe management. Participants are invited to come with their awareness of these experiences, their dreams, and their desire for a more expansive spiritual responsiveness. All are welcome!