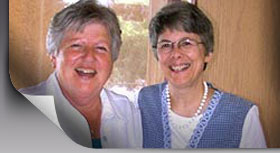 News & Events
We hope you will explore this area of our web site to read the latest news about our sisters and their ministries, and to learn more about a variety of upcoming events. For more information on any of these news or events, contact Jane Buse, Director of Communications, at 563.588.2008 or info@dubuquepresentations.org.
Annual Presentation Garage Sale
April 27, 2017 - April 30, 2017

May 4, 2017 - May 6, 2017

For the past 11 years, many of you have helped support the sale and the Presentation ministries through donations of money, sale items, baked goods and time. Can we count on you again this year?
WHEN:
Thursday, Friday, Saturday
April 27, 28, 29, 2017
Thursday, Friday, Saturday
May 4, 5, 6, 2017
(Thursdays, Fridays 8 a.m.-dusk; Saturdays 8 a.m.-1 p.m.)
WHERE:
Garage and gym behind the Sisters of the Presentation Motherhouse
2360 Carter Road, Dubuque, Iowa
WHAT:
Please bring gently-used items: clean adult, children and baby clothing; household items; books; CDs; furniture; games, toys, etc. Plants such as hostas, ferns, schefflera, crotons, etc., sell very well too. (Please no shoes, computers/accessories, TVs, baby cribs or car seats, Nordic tracks or treadmills). Homemade baked goods will be sold.
WHY:
The proceeds from the 2016 sale will assist the following ministries/charities:
Our Lady of Tepeyac School, Chicago, IL
Presentation Lantern Center, Dbq, IA
La Luz Hispana, Hampton, IA
Hispanic Ministry, St. Patrick's, Dbq, IA

The gym behind the Sisters of the Presentation will be open for drop-offs of usable items from 8 a.m. to 7 p.m. daily EXCEPT Sundays beginning Monday, April 3 until Saturday, April 22. No items will be accepted after Saturday, April 22. Larger items such as furniture, desks, large lamps, etc. should be dropped off at the garages across from the gym.
Wrapped baked goods may be brought to the gym on April 27-29 and/or May 4-6.
For more information, contact:
Office of Associate Partnership
2360 Carter Road
Dubuque, Iowa, 52001
563-588-2008
associates@dubuquepresentations.org