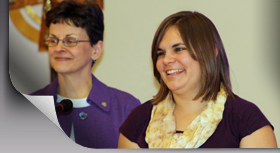 Vowed Membership
We believe that God created each of us with a special dream or purpose for our lives. God calls each person in a particular way and this uniqueness is part of the beauty and sometimes the confusion in wondering how God is calling you.
Be assured that God's hope for our lives will only lead us to our truer self and will be made visible by a deepening inner freedom and sense of joy as we respond with the gift of our lives to God's love for us.
As Presentation Sisters, we dedicate our lives to the Gospel of Jesus Christ. We choose to embody this apostolic vision by living in community and vowing to live simply, celibately and with shared responsibility. This call deepens and integrates our prayer, relationships and work. Together, as Catholic women, we desire to deepen our spirituality through prayer and service. Our Presentation charism calls us to bring the hospitality of God to others.
We invite you to explore your vocation to religious life.