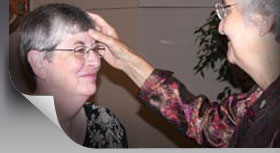 The Process to Become a Sister
Formation is adapted to the various stages of religious life. At each stage the work of formation includes the initiative of the individual and the design of the community. The total initial formation period includes the following stages:
Inquiry: A woman contacts the vocation minister via a letter, phone call or e-mail, stating an interest in religious life. The vocation minister meets with the woman and offers information regarding: the community, discernment techniques, ways to connect with the community, etc., and answers any questions.
Affiliate: A local community of sisters serves as the sponsoring community for the affiliate (woman expressing interest in entering). The affiliate meets monthly with both the sponsoring community and the vocation minister for further discussion.
Candidate: An affiliate transitions to a candidate. Candidacy is a year filled with firsts: first time living in a Presentation community, first time connecting ministry with Presentation mission, and first connection with other candidates in the Iowa/Wisconsin prenovitiate process. At this point, the candidate also begins to meet regularly with the formation coordinator, who accompanies her through the upcoming initial stages of membership.
Canonical Novice: A woman is formally received into the community at the beginning of this year during which she studies the vows, prayer, theology and church issues, etc. This year involves intense reflection, prayer and discernment.
Apostolic Novice: This second year of the two-year process called Novitiate, involves experiential and academic learning. She explores of future ministry possibilities and learns to integrate and balance community living, personal and communal prayer, ministry, maintaining relationships with family and friends.
Temporary Vows: After novitiate, she may discern to make her "first vows." This time of temporary profession indicates that a woman intends to continue her commitment.
Final Vows: At this time, a woman expresses her desire to permanently commit to living her vocation as a Presentation sister. This "final profession" is celebrated in a public ceremony with community, family and friends.