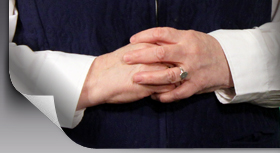 Discernment
Steps towards knowing your call:
Pray
Ask God for guidance. Pray with scripture, journal, listen with an open heart. Reflect on the following:
How am I interested in sharing life in community with other committed women?
Do I long to deepen my relationship with God in prayer and service to others?
Do I desire to live a balanced personal life: prayer, ministry, relationships with others?
Listen to Yourself
What are the stirrings of your heart? What are your reasons for considering religious life? Look at your own history and your gifts. What are your strengths and weaknesses?
Gather Information
Write, call or email religious communities to get information; Vision Guide provides the opportunity to "match" with various communities, access to websites and suggestions for further reading.
Visit Communities
The best way to get to know the "spirit" of a community is to visit. When you have selected a few communities that interest you, contact them to set up a visit.
Seek Input from Others
During this time it is helpful to talk with others who know you well - friends, advisors, a spiritual director. They can help you sort out your doubts and questions and walk this journey with you.
Continue Discerning and the Decision-Making Process
Continue to read, pray and discuss your options with a spiritual guide. Begin to narrow your choices. Be sure to check out the spirit and requirements of the community you are considering. After spending time with community members so you can get to know each other, if you find you are coming to a sense of peace within yourself, contact the vocation director to continue the process.
Discernment Guidelines
1. Listen to God and pray for guidance.
2. Know what is in your heart.
3. Do research and use resources.
4. Talk with someone you trust.
5. Discern and make a decision, including God in the process.
6. Find peace with your decision.