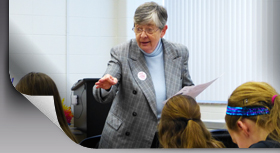 Frequently Asked Questions
Submit a question

What does "a day in the life of a Presentation sister" look like?
Sisters' days hold a variety of activity: prayer, ministry, community, relaxation and rest. All the things necessary to live a balanced life! Our days begin and end with prayer with the bulk of the day spent in ministry. Our community life fosters close relationships, recreation and meaningful interaction with other sisters, friends, family and new acquaintances. We strive to be the face of Christ to all we meet.
Why do some sisters wear habits?
Women religious use symbol to indicate their faith in God and commitment to Christ. Some congregations choose a habit (a certain color clothing often identified by a veil and skirt) as their sign. Some wear a ring, and/or a pin or pendant. While some Dubuque Presentations wear a habit, many Presentations wear clothing appropriate to their ministry. Nearly all don a community ring and pin or pendant. We strive to make our Christian lifestyle most obviously speak our commitment.
How do congregations or religious orders differ from one another?
Each religious order or congregation identifies with its own founder or foundress, charism (spiritual gift), and mission. As Presentations, we identify with Nano Nagle and her mission of teaching and offering healing and hospitality to the world. We encourage our members to use their diverse and unique talents incarnating the hospitality of God, confronting injustice, stewarding Earth's resources and engendering peace.
What is the difference between a sister and a nun?
A nun belongs to a contemplative community predominantly dedicated to a life of prayer. Her day is comprised of a combination of prayer and work within the abbey. These sisters pray together the Liturgy of the Hours, an ancient collection of psalms and prayers prayed every few hours. Additional activity may include: Mass, silent prayer and reading, gardening, baking, etc.
A sister belonging to an apostolic community ministers in the world serving in places of need. Though also dedicated to a life of prayer, sisters minister in the marketplace as teachers, nurses, parish ministers, etc.
What vows do religious take?
Various communities take vows. Some take three vows. Others take four vows. The three vows Dubuque Presentations take are:
Poverty - sharing our goods in common, living simply, and realizing our dependence on God, Earth and our community to meet our needs.
Obedience - Living in community and listening to the movement of God within our lives, the life of the community and the needs of the world.
Celibacy - choosing to love God, serve God and all people rather than choosing to love one person exclusively in marriage or committed partnership.

Is prayer always easy for you?
Through prayer we communicate with God. We make a choice to be in relationship with God. Our prayer takes many different forms, including liturgy, Divine Office, Taizé, spiritual reading, Taí Chih and silent meditation.
Can sisters date?
No. By being a sister we have made a commitment to remain open to many chaste, loving relationships. As celibates, friendships are vitally important. They support us as we serve the people of God.
Are religious ever attracted to others in a romantic way?
Of course! We experience normal, human needs, feelings and desires. Yet, as celibate persons, we choose to channel these feelings - our sexual energies - into other healthy directions, such as prayer, good friendships and healthy physical exercise.
Do you have to be a virgin to be a sister?
Past sexual activity does not in itself prevent someone from becoming a sister. A person's past life is not the main concern. The question is whether a person is called and willing and able to live and love as a celibate in the service of others.
Can a widowed or divorced woman enter religious life?
Yes. Vocations might occur to us at many stages of life.
Does it matter what your sexual orientation is if you want to become a sister?
Religious orders are seeking women who are sexually integrated. Such women have a strong sense of self and understand their own needs for affection and healthy intimacy. Women called to a vocation of religious life understand appropriate expressions of love in a celibate context.
Submit a Question: