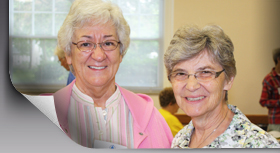 Presentation Life 101
Presentation sisters live throughout the United States and beyond. Despite this, we connect on a daily basis through various forms of communication, prayer, service to the people of God and community living. Spread widely geographically, we are mindful of our connectedness through our foundress, Nano Nagle, our heritage, our mission, our ministry and our friendship.
Through our interaction, we hold one another accountable for our daily living of our vows, our commitment to mission and our community decisions. During the years between initial membership and retirement, a sister offers her talents, her zeal and her apostolic skills to the world. Each sister is conscious of her need to grow, refining skills necessary for healthy community living. Each day, she rediscovers through prayer, action and service who she is called to be by doing what she can, with what she has, where she is! Discernment is lifelong.