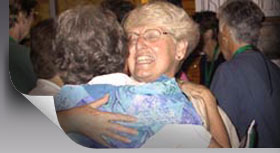 Conference of Presentation Sisters
The Conference of Presentation Sisters represents hundreds of Presentation Sisters who meet annually to collaborate and communicate on issues of ministry, spirituality, and social justice. The Conference was established to provide opportunities for greater collaboration, connection and communion among its members on matters of mutual interest, to promote unity, to strengthen the spirit of Nano Nagle, and to encourage the works of the sisters to fulfill the mission in the Church.
The mission of the Conference of Presentation Sisters, aware of their need for personal and communal conversion, call themselves and one another to be contemplative women in action, fired by the spirit of Nano Nagle, Presentation foundress. They commit themselves to act collectively and collaboratively for justice, to deepen their relationships among members, and to promote their Presentation spirituality, unity, mission and heritage, in solidarity with other Presentation woman and associates throughout the world.
Presentation Congregations in North America
Learn more about the Conference of Presentation Sisters: